-WW
Willy Wimmer,

former State Secretary of the CDU (German Christian Democratic Party): T

he second reason is face that just last year our Federal Chancellor, Angela Merkel, opened the German borders. Our borders are under-protected and we don't know how many people came into the country and we don't know how many terrorists joined them… In our neighboring country, France, there might be other reasons. They have some problems with the people coming from their old colonies. So we have a mixture from all these problems, and I think the main problem we face is we are hostile to our neighbors, we go for war everywhere, and as long as we continue with such a policy I think we will face a real tragedy in France or Germany sooner or later.
RT: Will the recent violence see far-right groups and parties gaining ever more support?
WW: It is not the question of far-right parties. It is the question why the government of Angela Merkel is doing all these things… She has an obligation to defend our borders and defend our people. That is the main obligation she has. Therefore, what was the reason last year to open our borders? There is no country worldwide that did similar things. What had been the reason for her to do so? She never explained it to parliament; she never explained it to the public and therefore the main question is: What does she have in mind to destroy our country? That is the reaction.
RT: Have the policies of Chancellor Merkel failed?
WW: Absolutely. You can't have 1 or 2 million people coming in one year into your country; you can't organize it. We have to look to our neighbors. We are destroying the situation in Europe. Brexit is one of the results of Merkel's policy. We are destroying everything that was organized and could have been developed after the Second World War.
https://www.rt.com/op-edge/353568-france-germany-terror-attacks-wimmer/
.........................................................................................................................
7-9-16 The refugee crisis has been blamed on the civil war currently raging in Syria. But did you ever wonder how all these people suddenly knew Europe would open its gates and let them in?
The refugee crisis is not a naturally occurring phenomenon. It coincided with OSF (Soros'

Open Society Foundations)

donating money to the US-based Migration Policy Institute and the Platform for International Cooperation on Undocumented Migrants, both Soros-sponsored organizations. Both groups advocate the resettlement of third-world Muslims into Europe.
In 2015, a Sky News reporter found "Migrant Handbooks" on the Greek island of Lesbos. It was later revealed that the handbooks, which are written in Arabic, had been given to refugees before crossing the Mediterranean by a group called "Welcome to the EU."
Welcome to the EU is funded by—you guessed it—the Open Society Foundations.
Soros has not only backed groups that advocate the resettlement of third-world migrants into Europe, he in fact is the architect of the "Merkel Plan."
The Merkel Plan was created by the European Stability Initiative whose chairman Gerald Knaus is a senior fellow at none other than the Open Society Foundations.
The plan proposes that Germany should grant asylum to 500,000 Syrian refugees. It also states that Germany, along with other European nations, should agree to help Turkey, a country that's 98% Muslim, gain visa-free travel within the EU starting in 2016.
The refugee crisis has raised huge concern in European countries like Hungary.
In response to 7,000 migrants entering Hungarian territory per day in 2015, the Hungarian government reestablished border control in order to keep the hordes of refugees from entering the country.
Of course this did not go down well with Soros and his close allies, the Clintons.

Bill Clinton has since come out and accused both Poland and Hungary of thinking "democracy is too much trouble" and wanting to have a "Putin-like authoritarian dictatorship."

http://www.zerohedge.com/news/2016-07-08/how-george-soros-singlehandedly-created-european-refugee-crisis-and-why
...............................................................................................................................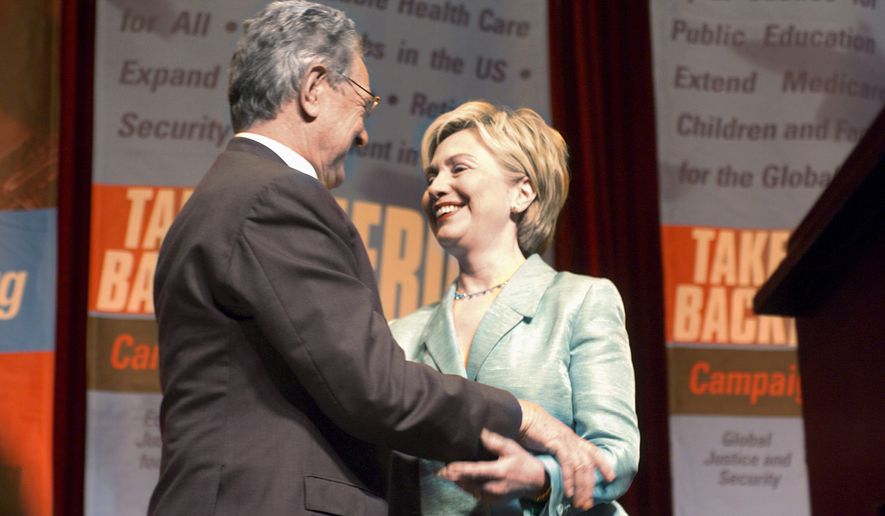 10-20-16 The Hillary Clinton-George Soros symbiosis came into clearer focus this month with WikiLeaks' release of thousands of hacked emails from John Podesta, Mrs. Clinton's campaign chairman. Mr. Soros' name comes up nearly 60 times. (UPI)

http://www.washingtontimes.com/news/2016/oct/20/hillary-clinton-embraces-george-soros-radical-visi/
............................................................................................................................................
12-23-16 Prof. Anthony Glees, of the University of Buckingham, said the German Chancellor had been lax on security after a lorry ploughed into a Christmas market and killed 12 people on Monday.
He criticised Mrs Merkel's speech on Thursday, in which she spoke about maintaining "our values of togetherness, openness and freedom" despite police launching a manhunt to find a Tunisian suspect linked to the attack.
The academic told Sky News: "In her statement, she talked about Germany and its values and protecting its values and I understand that, but sometimes you have to protect democracy through the exercise of tough policies, tough security policies.
Prof Anthony Glees has slammed Angela Merkel
"Security's a dial, it's not a switch – when times are hard you have to turn it off. All of that is Merkel's job, it's nobody else's job, it's her job and therefore I'm afraid – she's a deeply humane, deeply Christian person – [but] in my view has failed her country."
Prof Glees, who leads up his university's Centre for Security and Intelligence Studies, slammed the EU's policy of free movement as police continue to search for suspect Anis Amri. http://www.express.co.uk/news/world/746599/professor-anthony-glees-blasts-angela-merkel-open-borders-fantasy-berlin-attack
..................................................................................................