Sunday, August 18, 2019
Threefold Fl
ame of Life by Robert Zimmerm
an, ~1971
It is the nature of the Infinite One to multiply Being infinitely and still remain one.
-Messengers Mark and Elizabeth Prophet: Science of the Spoken Word, 1983, ch. 6
1)
In
the name I AM I call for Archangel Michael's cloak of invincibility, invisibility and invulnerability to all not of the light and for Michael's armor, sword, shield, crystalline helmet, boots and gauntlets,
amen.
-Archangel Michael via Messengers M & E Prophet
……………………….………………………………………….....................
…….
2) In your hearts there is the kernel of Christ awareness. In your hearts there is that light which lighteth every man and woman who cometh into the world. And therefore the testing, therefore the battlefield of life, therefore We come….Sons and daughters of flame, you must see your life as God's love, as opportunity to be God-free twenty-four hours a day. Each day, each hour you are called upon to prove your God-freedom from the stresses and the strains, from the mounting pressures of your service. We can do aught but give to you greater and greater opportunity when you have called forth opportunity in the form of initiation, consecration and the new birth….To accelerate the worlds turning within you there must be sacrifices, there must be surrenders, and above all there must be that indomitable obedience that is unconditional. …
When there is not the Shepherd to guide the sheep the sheep are scat­tered. It is the scattering of the energies of your four lower bodies that concerns Us; and unless there be the lifting up of the Christ within you as the Good Shepherd of your own pasture, your own consciousness, how will you come into alignment with the inner Law of the flame?
The carnal mind poses as your own Good Shepherd. It is the hireling, it is the impostor coming in the name of the "Shepherd," and it will come to allow you to rationalize all manner of behavior and a switching and a reversing and a turning upside down of the logic of the eternal Logos within you….
And respond They will, blessed hearts, if you will but cast the net of your consciousness on the right side of your self-awareness—on the right side of the ship and draw in not all of the fishes of the sea but the fishes who are chosen, who are called, who are the elect, who are the true children of Israel because they have claimed the flame of life that is real.
I come with the vision of the City Foursquare. I am never without the vision nor without the scroll in my hand. I walk with the rchitects who have planned under the Logos the fiery destiny of America….
Let there not be compromise within you! Set the pattern and the promise that there may not be compromise in this nation or in any nation….Know that any compromise with the plan released by the ascended masters, any compromise with Their directives can only result in delay and more delay….If the cup of the Teaching is dashed, if the Plan of the age, if the preparation for the incoming souls—if this is spilled upon the ground, who will recapture the sacred liquid?…
Those whose souls are souls of light cannot take the manna given to the children of Israel in this age because they must reject the concept of the Great White Brotherhood, the concept of Hierarchy. And their rejection is not based on free will but upon their programming, upon the manipulation of their consciousness and the sowing of those dark seeds of the fallen ones in their very own four lower bodies.
-Godfre: 2-22-1976 at Colorado Springs via Messenger ECP
…………………………………….……………………………..
3) I come now to bless you and to seal you in the light of the Buddha and the Mother and to enlist your twinflames in the discovery of that Word whereby you may command life to reserve and to resume the cycles of perfection. Hear my call and answer, O twinflames in love. For by your wholeness you are invincible, invulnerable.
-Gautama Buddha: 4-23-1978 at NYC via Messenger ECP
……………………………………………….……………………….
4) But those who have come here with the light of freedom burning in their breasts have not understood the threat of these tyrants nor have they understood the seeds implanted in their own subconscious to cause them to sway with the fallen ones rather than to walk with straight spine and straight arrow, with the mighty standard of the original Christ-purity upon which this nation is founded….
Let there be alliances formed by the people themselves! Let us not go through the United Nations or even through the government of this nation.
(Roger B
acon by Gordon Ross, 1941)
-Saint Germain: 7-4-1981 at Camelot, Los Angeles
………………………………………………………..........................................
…..…
5)
In the n
ame I AM:
masters of the seraphic science, come forth in the fullness of the cosmic honor flame--Holy Justinius, beloved Serapis Bey--rekindle within us the light of the Divine Mother. O whitefire purity from the Central Sun, intensify the gold-and-white lily, that flame which the Lord has laid down for us that we may climb up this golden spiral ladder of light step by step in the initiatic process; amen.
-Messenger ECP:
Pearls of Wisdom
24:22
………………………………………………............................................
…
6)
...When we are aligned with God we are immutable, we become the Immutable One. Therefore forming community is the proving of the disciple, of co-measurement and immutability; community formed is the result of that proof….
Co-meaurement is like two dots that always move in proportion to each other. The larger dot is the I
A
M Presence or the Master and the smaller is your soul.
If you can see these two dots moving in direct correlation, then you can have the outer community or outer church in relationship to the inner church.
-Messenger ECP:
Community, 2002, pp. 29, 30
...................
.........................................................................................................
..
7)
Saturday, August 17, 2019
a
ck is c
apturing 2 white stones
any is 2+3+3?
according to my pocket c
alcul
ator this is 8.
allies 15 c
aptured by bl
ack
. Uh oh.
Friday, August 16, 2019
-Isla de Margarita ("Pe
arl")
was discovered by Columbus in 1498 and quickly became known for its pearls.
britannica.com
.....
.................................
.................................
...
8-17-19
A
French commerci
al pilot
claimed that materiel was assembled off the coast of Venezuela, on Isla Margarita--today a free-trade zone controlled by Hezbollah--with a growing presence of Hamas, al-Qaeda and ISIS fugitives among an Arab community of some 12,000. Isla Margarita appeared in a report by the assassinated Argentine prosecutor Alberto Nisman as part of what is now called "Latin Arabia," from Surinam to Venezuela, Bolivia, Chile, the Argentine-Brazil-Paraguay Triple Frontier Region and Trinidad-Tobago.
The arms would be sent by boat to the French Caribbean islands of Guadeloupe or Martinique, also hosting communities of Lebanese, Syrians and Palestinians, especially those who had fled the Lebanon civil war in the 1970s and '80s. "From these French territories, flights considered as domestic could freely arrive in Paris without security or customs controls," claimed the pilot.
At the time we turned to the Élysée Palace and were assured that President François Mitterand himself knew nothing of this deal.
A few days later we learned that the "delegate general of Palestine" (aka "ambassador of Palestine") to France, Ibrahim Souss--considered a master concert pianist rather than an agent of terror--was hauled into the Quai d'Orsay Foreign Office, allegedly to discuss the islands' "traffic" issue.
If Le Parisien and our pilot source are correct, the arms supply to Abu Nidal through France into Europe could have been used in his terrorist organization's subsequent deadly itinerary resulting in at least 400 murdered victims and many more wounded:
• November 23, 1985: EgyptAir Flight 648 hijacking and stand-off in Malta, 58 killed.
• December 27, 1985: Simultaneous shootings at the El Al ticket counters in Rome and Vienna airports, 20 killed, 138 wounded.
• September 5, 1986: Pan American flight 73 hijacking, 20 killed, 120 wounded.
• September 6, 1986: Attack against the Neve Shalom synagogue in Istanbul, 22 killed.
• July 11, 1988: Attack on a Greek cruise ship, 10 killed, 98 wounded.
• December 21, 1988: Pan American flight 103 explosion over Lockerbie, Scotland, claimed by Abu Nidal among other suspects, 270 killed.
https://www.jpost.com/Opinion/Did-French-Caribbean-serve-as-Palestinian-terrorists-arms-route-598783#/
.................................................................
2-9-19
Hezbollah
has a long and sordid history in Venezuela. A
cocaine-smuggling ring
active throughout the 2000s led by a Hezbollah-linked Lebanese national named Chekry Harb—a drug trafficker and money laundering kingpin who went by the nickname "Taliban"—used Panama and Venezuela as critical hubs in an operation that
sent narcotics
from Colombia to the United States, West Africa, the Middle East, and Europe. Proceeds from the cocaine-trafficking ring were laundered into Colombian pesos or Venezuelan bolivars, with Hezbollah
netting
between 8 and 14 percent of profits.
Hezbollah's reliance on sympathizers within its diaspora communities, including in Venezuela, has significantly minimized the group's potential exposure to detection.

Venezuela's border security officials and law enforcement, amid the country's general desperation, have been largely unwilling to resist bribes and kickback schemes offered by Hezbollah members. https://foreignpolicy.com/2019/02/09/hezbollah-is-in-venezuela-to-stay/
.................................

..........................

................................

...............................
2-12-19 Islamic Republic has had close relations with Venezuela for some time now. Iran's close ties with the Nicolás Maduro regime and the previous president Hugo Chávez, have enabled Iran to extend its military and financial presence, primarily through its proxy Hezbollah.
These bonds strengthened starting 2005 between Ahmadinejad and Chávez. However, a strong Hezbollah support network has existed in Venezuela for a long time. Hezbollah has had cells in Venezuela since the 1990's according to a July 2003 report by Mark Steinitz, the then-director of the terrorism analysis office in the State Department's Bureau of Intelligence and Research.
Margarita Island off the Caribbean coast of Venezuela serves as a hub for drug trafficking and Hezbollah as well as other Islamist extremists such as Hamas. Margarita Island is being used by Iranian and Iranian-linked militants as a base of operations. Steinitz further added that "attention has focused on the group's presence among Lebanese Shia in the 12,000-strong Arab community on Margarita Island." There are large Syrian and Lebanese diaspora communities in Venezuela which serve as valuable sources of revenue and offer support to Hezbollah and Iran. Antonio Salas an author who infiltrated terrorist groups in Venezuela in 2010 revealed that there were "as many as six terrorist training camps, mostly run by Venezuelan military officers, spread around the capital city of Caracas and Margarita Island."
Venezuela is one of many Latin American countries in the Bolivarian Alliance for the Peoples of Our America (ALBA). According to Joel Hirst, ALBA has solicited the aid of Iran and Hezbollah to train their military in asymmetric warfare. Venezuela became interested in asymmetric warfare in 2006 under Chávez. Terrorism is a part of asymmetric warfare, and Venezuela's participation "has allowed Hezbollah to plan, fundraise, train, coordinate and carry out operations, mostly fundraising and intelligence collection."
According to Martin Rodil, an expert in Latin American politics, Venezuela agreed to provide Iran with "intelligence infrastructure such as arms, identification documents, bank accounts, and pipelines for moving operatives and equipment between Iran and Latin America." Coviassa (the state airline in Venezuela) and Iran Air (the state airline in Iran) were used to transport military technology and personnel from Iran to Venezuela. Conviassa personnel claimed that radioactive materials and missile system components were on these flights. This operation continued from 2007 to 2011; these flights and their passengers were never inspected. Ordinary citizens were unable to obtain a seat on these flights; instead, these seats were reserved for "Iranian agents, including Hezbollah, the IRGC, and other intelligence personnel."
According to Admiral Kurt W. Tidd, the then-Commander of the United States Southern Command, who testified before Congress in February 2018, "Lebanese Hezbollah maintains an established logistical, facilitating, and operational presence in this region that can be quickly leveraged with no warning." He further stated that "Venezuela has long provided a permissive environment for narco-terrorist groups and Lebanese Hezbollah supporters and is a transit country for the smuggling of illicit drugs and Special Interest Aliens (SIAs)." Special Interest Aliens are foreign nationals from a country with potential or known terrorist links.
Matthew Levitt, the director of The Washington Institute's Jeanette and Eli Reinhard Program on Counterterrorism and Intelligence, wrote that in 2011 a prominent member of Chávez's government was accused by the media of issuing passports to members of Hezbollah and Hamas. U.S. officials have stated that Venezuelan officials have issued fake cedulas (Venezuelan version of a social security card) to people from Middle Eastern countries who would not have qualified for these documents. These documents make it possible for them to then get a Venezuelan passport and consequently a U.S. visa. These documents have made it possible for members of Hezbollah to join and form cells within the U.S. as was done with the Charlotte, North Carolina Hezbollah cell. https://en.radiofarda.com/a/would-a-new-venezuelan-government-kick-out-hezbollah-/29765060.html
................................................

................................

........................

.......
4-2-19 According to reports, more than 120 soldiers from the Chinese People's Liberation Army arrived at Venezuela's Margarita Island to deliver humanitarian aid and military supplies to the government forces.
https://www.almasdarnews.com/article/chinese-army-arrives-in-venezuela-just-days-after-the-russian-miltary/
..........................................................
4-2-19
R
osoboronexport, the state corporation for arms sales, said in a statement it built the centre under a contract with Venezuelan state-owned firearms manufacturer CAVIM.
Russian-made simulators will allow local pilots to practice flying helicopters that Moscow has supplied to Caracas. These include the Mil Mi-35M Hind, a gunship known in Russia as the "flying tank" for its durability under fire, the Mi-26T heavy transport helicopter and the Mi-17V-5, a transport helicopter that can be equipped with machine guns and rockets.
At the opening ceremony for the helicopter centre on Friday, Venezuelan defence minister Vladimir Padrino López said a flight simulator for the Russian-made Su-30MK2 fighter jet would be installed in another city and a factory to produce Kalashnikov assault rifles under license would open soon after years of delays.

https://www.telegraph.co.uk/news/2019/04/02/russia-opens-military-helicopter-training-centre-venezuela/
............................................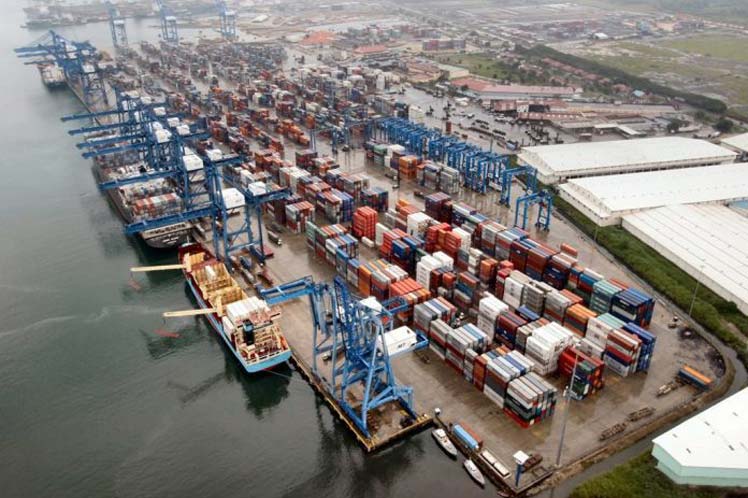 The container port

(PCCP)

China is building in the Atlantic entrance of the Panama Canal, at Colon--on Isla Margarita, is 30 percent done and it is the biggest Asian investment in the Isthmus until now.
In only nine months the project executed 310 million dollars in values, of the 1.1 billion included in its first stage, reported spokespersons of the construction, in charge of state China entity Communications Construction Company,

one of the biggest construction and design enterprises of China and the second largest dredging firms of the world.

https://panamaadvisoryinternationalgroup.com/blog/news-from-panama/biggest-chinese-investment-panama-makes-progress/
.......

............................

............................

.
A $1bn project to build a new deepwater port and container terminal near the Caribbean entrance to the Panama Canal has begun. Both its developer and the firm building it are Chinese.
China Landbridge, a privately owned company based in the northern Chinese port of Rizhao, bought Panama's largest port, at Margarita Island, in May last year and announced that it wanted to expand and modernise the facilities. The new high-speed, deepwater port will be called the Panama Colón Container Port (PCCP).
In line with China's grand One Belt, One Road global strategy, the plan is to capitalise on the doubling in the capacity of the canal, which can now handle the New Panamax container ships that can transport up to 14,500 teu (twenty-foot equivalent units). That work was completed in June last year. The first stone of port was laid on 7 June by Panamanian president Juan Carlos Varela, who commented that the port was the most important Chinese investment in Panama so far. Ye Cheng, president of Landbridge Group, said during the ceremony that the port would become one of the most important in the world. He said: "Landbridge's ports in Asia and Oceania together with PCCP on Margarita Island will be efficiently connected to exploit maritime cooperation, contributing to the economic development of all countries." http://www.globalconstructionreview.com/news/chinese-firm-starts-w7rk-1bn-panama7nian-meg7aport/
...........................................
................................
........................
........
2018. What will it mean for the region to have PCCP able to accommodate the new type of Neo-Panamax vessels?
Jorge Serrano Evers, Managing Director of Panama Colón Container Port (PCCP): The key differentiating factor in this industry is being able to offer greater productivity, and we are going to use all the latest, state-of-the-art Chinese technology for this project. For example, our provider for gantry cranes is ZMPC, which has captured 90% of the American market. We will also be using the latest RGTs, which are the smaller cranes, as well as the newest information systems . Being able to handle larger amounts of cargo is important because the current trend in shipping is focused on larger volumes.

https://www.thebusinessyear.com/panama-2018/ground-breaking/interview
......

..............................................

................................

........................

..

..
Yegor Zhukov, a political science student at Russia's prestigious Higher School of Economics, faces eight years in prison over controversial "mass unrest" charges. The Kremlin's critics think the charges are a scare tactic to crush
Russia's largest protests
in years, set to continue for their fourth weekend on Saturday.
From a jail cell, Zhukov unleashed a broadside at the political system pieced together by
Vladimir Putin
, who was confirmed as prime minister for the first time 20 years ago on Friday.
"I want to thank our government for the enormous amount of work it does every day to discredit itself," said
Zhukov by video link on Thursday. "Truly it's hard to find anyone who has done more to increase the numbers of the opposition than the Russian government." -
Yegor Zhukov, who was detained during a recent protest for fair elections, appears in a Moscow court via video link. Photograph: Evgenia Novozhenina/Reuters
https://www.theguardian.com/world/2019/aug/16/putin-20-years-in-power-producing-new-generation-of-protesters
8-15-19 US intelligence agencies are closely watching Chinese troop movements in Shenzhen near Hong Kong where several hundred thousand People's Liberation Army and People's Armed Police troops are massing along with armored vehicles.
Satellite photos published this week showed an estimated 500 armored personnel carriers and military trucks parked in a sports stadium in Shenzhen, a city near Hong Kong.
State-run Chinese media reports over the past week have provided indications that the ruling Communist Party is preparing the population for a major military crackdown on the former British colony, one that likely could resemble the 1989 massacre of pro-democracy protesters in Beijing's Tiananmen Square. https://freebeacon.com/national-security/inside-the-ring-chinese-military-preparing-crackdown/
.......
"I am the punishment of God...If you had not committed great sins, God would not have sent a punishment like me upon you." -
Genghis Khan